---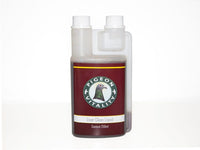 A natural product based on herbs, and available as either liquid or as powder. The main function of the pigeon's liver is to remove toxins from the pigeon's body, which can include varied chemical as well as physiological substances.
Effects:
Speeds recovery, faster recuperation after race!
Helps to overcome various Liver assaults like Mycotoxins, Antibiotics
Stimulate the immune defence system
Dosage Liver Clean Liquid (250 ml for 1500 -5000 pigeons)
Add 1 ml per litre drinking water and give for 1-3 successive days. 1 canister
RRP Liver Clean Liquid (250 ml ): 35 € VAT shipping cost.
Note : Concentrate: 250 ml treats 1500-5000 pigeons depending on treatment period.