---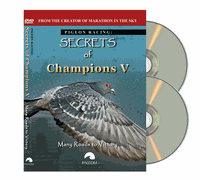 Jim Jenner visits more than three dozen top lofts in this documentary on pigeon racing. You'll enjoy this DOUBLE-DVD set that is all new for 2011. Packed with information you will enjoy again and again. "Secrets V" features profiles of dozens of top trainers talking about feeding, motivation and other vital tools to win more races.
CONTENTS INCLUDE:
Loft visits and profiles on individual fanciers.
The latest thinking on fatty acids & performance.
Secrets to motivatin
Widowhood Cocks & Hens.
Young Bird Sickness and new tips on darkening.
When & how to add light to darkened young birds.
The "Sunrise" System of Young Bird management.
The "Light" System and why some use it.
The "Pigeon Whisperer" and bird behavior.
Why the eye may be key to fast homing ability.